Cigar Guide: Cheat Sheet For Beginners
Posted by James Wiedenbeck on
So, you're ready to claim the rank of cigar aficionado? Not so fast, youngling! While it may seem simple enough, you're not going to become Winston Churchill or Orson Wells overnight. There's much more to grabbing a cigar off the rack and lighting it up. Not to sound pretentious, but there's definitely an art to fully enjoying a cigar and we want to help you learn how.
Before we jump into it, we should point out that cigar culture can be intimidating for newcomers. Smokers are passionate about their stogies and there's a number of rules to abide and faux pas to avoid. Don't let that scare you away. As any smoker will tell you, it's a deeply rewarding experience to kick back with your favorite cigar and savor the immense flavor. But before you reap those rewards, you need to learn the proper way to light and cut your cigar.
Follow this guide and you'll be on route to go from this: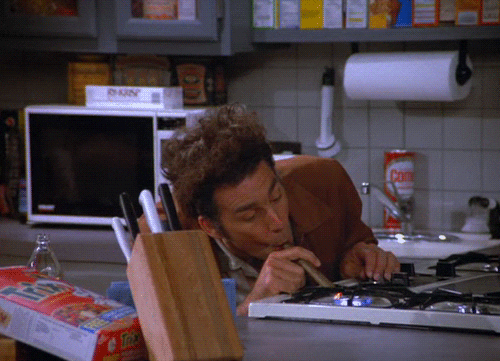 To this: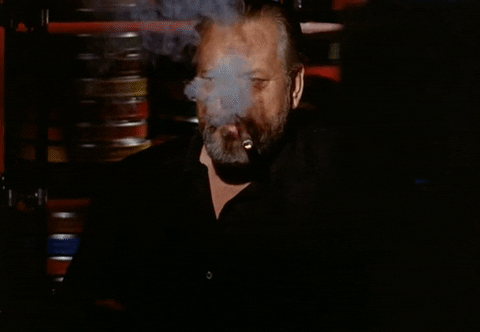 Which End is Which?
No, that's not a sarcastic question. Unlike something like a cigarette, a cigar can be a little tricky for newcomers to identify where to start. That's why you need to begin with the cigar's "anatomy' (don't worry, this isn't going to turn into a college lecture). To start, you at least need to know about the cap and the foot. The end of the cigar is called the "cap", this is the side that you'll put in your mouth to smoke. The other end is called the "foot" (sometimes referred to as the "tuck end"). This where you'll cut and light your cigar.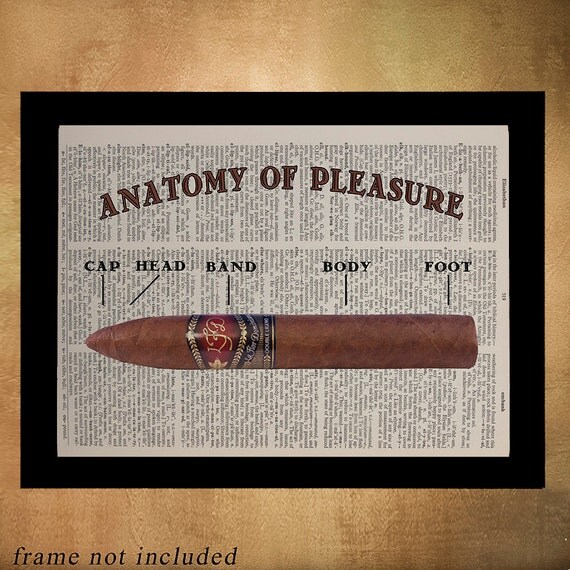 Image by Lexiconograph on Etsy.
Types of Cigar Cutters
Don't use just any tool to cut your cigar. Put that kitchen knife away! Just like with any specialty product, cigars require their own set of tools called cigar cutters. These come in three basic varieties:
As a beginner, try using a double guillotine. The two blades cut through each side and will help you make a nice clean and straight cut. Carefully snip off the cap without going too deep into the body of your cigar. Going too far in will cause unraveling – you'll end up with a huge mess and will ruin a nice cigar.
Quick tip: if you're ever in a pinch without your cutter, it's better to poke a hole in the end of your cigar, as opposed to using a tool that will cause unraveling, such as a pair of scissors.
Lighting Your Cigar
Our recommendation is to use a butane lighter and avoid lighter fluid lighters. The odors those types of lighters emit easily ruin the taste of a good cigar. Don't use a candle either. The scent from a candle will also ruin your cigar. Why are you near a scented candle anyway?
As you light the cigar, lightly puff as you rotate it so the heat distributes evenly. Don't get the flame on the cigar itself. Simply let the flame's heat do the work for you. Keep doing this until the outer rim of the cigar is glowing nicely. Drawing in the smoke is now easy and you're on your way to enjoying one of the best pastimes known to man.
Quick tip: Don't inhale! Unless you're interested in looking foolish as you bust a lung, simply let the smoke fill your mouth and then release it. You're looking for an uplifting experience, not an upchuck.
Storing Your Cigars
You might want to hold off on buying a humidor until you get your feet wet. Only keep on hand enough cigars that you'll smoke over a few days or so. Keep them wrapped in the cellophane. Or, you can make doubly sure they don't dry out by putting them into a Tupperware container.
When you're ready, buy a humidor. Any experienced smoker will tell you to buy a bigger one than you think you need. Once you go down this path, you'll get hooked! Make sure you have room inside that humidor for the bounty of cigars that magically appear.
Everything in this guide is enough to get you started. If you're really looking to enhance your experience further, you need to do just that: experience. Try out different cigars. Find out what you like. Get involved in the cigar community and check and see if there's a local cigar lounge near you. Smoking can be a solitary experience for self reflection, but it can also be a great way to bond. Pour yourself some whiskey, put on your favorite music, and savor the taste and the moment. Your first step toward entering the cigar world can be scary, but with practice you'll be smoking with the best of them.
---
Share this post
---
---
---
0 comment